Raleigh

Property Management
We can Help Manage Your
Raleigh

Rental Property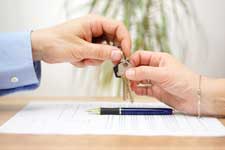 Our pricing is comparable to other property managers in the market, but with us, you have the added benefit of over 18 years in the industry and 10 years in business as one of the areas leading property management companies. Our employees offer more than 70 combined years experience in their areas of expertise. Several pricing plans are in place so you may select the one best suited to your needs.
Full-Service Property Management Fees
With so many headaches associated with property management, why would you not want a seasoned professional representing you? Issues are no problem for us. We handle them all. We firmly deal with tenant issues, streamline maintenance and minimize your risks. Pricing below represents a percentage of monthly rental amount. Minimum monthly management fee is $80. Leasing fee for tenant placement service is equal to 75% of 1st month's gross rent (minimum $500) for a lease term of 17 months or less; one full month's rent for a lease term of 18 months or longer. Additional fees may apply depending upon the service level you choose.
Inquire About Our Services
919.785.2075
Basic Management
Basic Management
7%

For the handyman property owner
Rent Collection
24/7 Online Access
Bill Pay & Bookkeeping
Monthly account reporting
Year end tax info/1099 prep
Full Management
Full Management (Most Popular)
8%

​Best fit for most property owners
Rent Collection
Maintenance Coordination
24/7 Online Access
24/7 Emergency Response
Bill Pay & Bookkeeping
Dedicated property manager
and more

Advanced Reporting
Move In/Out Photos
Year end tax info/1099 prep
Full Management Plus
Full Management Plus
10%

​Our premier service
Rent Collection
Maintenance Coordination
24/7 Online Access
24/7 Emergency Response
Bill Pay & Bookkeeping
Dedicated property manager
and more

Advanced Reporting
Move In/Out Photos
Year end tax info/1099 preps

Property Assessments
Apartment and Multifamily Pricing
For investors with multiple properties we offer full management at a reduced fee.

Large Portfolios
6%($70 per unit minimum)
11+ Units
Small Portfolios
7%($75 per unit minimum)
4-10 Units
Additional Services
For those who prefer a no hassle menu of services and understand the value we provide, we offer the following guarantees and priorities. Relax, we'll handle it!
A truly no hassle 60 day risk free guarantee
+
We are confident we will live up to your needs and remove your concerns. If, for whatever reason, you're not completely satisfied in the first 60 days terminate your agreement. No questions. Just let us know in writing that you wish to terminate our services and we will discontinue the contract with no cancellation fee. No hassles. See, we're already winning you over.
Renting fast to great tenants is super important to us
+
We align our priorities with yours and have set up our compensation model such that leasing your property to a great tenant is in both our interests. Quick turnaround should be priority #1 when your home is vacant. We require a minimum of 7 days between tenants so we may schedule a proper comprehensive move out report and make any needed repairs/updates between tenants. Our marketing plan spans the globe and our top shelf cloud based property management system allows us to keep it all safe and streamlined. We are confident we will find you a great tenant as quickly as the market allows. Our days on market are among the lowest anywhere! If we don't find you a tenant during the term of our agreement, it costs you nothing!
Tenant Replacement Guarantee
+
Although no property management company can prevent a tenant from breaking their lease we can and do guarantee if the tenant vacates for any reason other than a military relocation (the military has a get out of lease free card by law under certain circumstances) prior to 6 months into the lease we will not charge you the releasing fee. All you have to do is allow us to be the decision makers in the tenant selection process. That protects you from the sometimes confusing and ever changing tenant protection laws!
Eviction Guarantee
+
There are many legal pitfalls when evicting a tenant. We understand the laws and pitfalls that go with eviction and generally can save you the cost of hiring an attorney to handle evictions by handling most lease violation/non payment of rent evictions in house. We will always work in your best interests to minimize your risk and maximize the outcome in your favor.
Raleigh Area Information

Downtown area is home to historic neighborhoods and buildings such as the Sir Walter Raleigh Hotel built in the early 20th century, the restored City Market, the Fayetteville Street downtown business district, which includes the PNC Plaza and Wells Fargo Capitol Center buildings, as well as the North Carolina Museum of History, North Carolina Museum of Natural Sciences, North Carolina State Capitol, Peace College, the Raleigh City Museum, Raleigh Convention Center, Shaw University, and St. Augustine's College. The neighborhoods in Old Raleigh include Cameron Park, Boylan Heights, Country Club Hills, Coley Forest, Five Points, Budleigh, Glenwood-Brooklyn, Hayes Barton Historic District, Moore Square, Mordecai, Rosengarten Park, Belvidere Park, Woodcrest, and Historic Oakwood. In the 2000s, an effort by the Downtown Raleigh Alliance was made to separate this area of the city into five smaller districts: Fayetteville Street, Moore Square, Glenwood South, Warehouse (Raleigh), and Capital District (Raleigh). Some of the names have become common place among locals such as the Warehouse, Fayetteville Street, and Glenwood South Districts. Source From Wikipedia
Areas We Serve
Raleigh
Cary
Clayton
Wake Forest
Apex
Durham
Fuquay Varina
Holly Springs
Garner
Knightdale
Zebulon